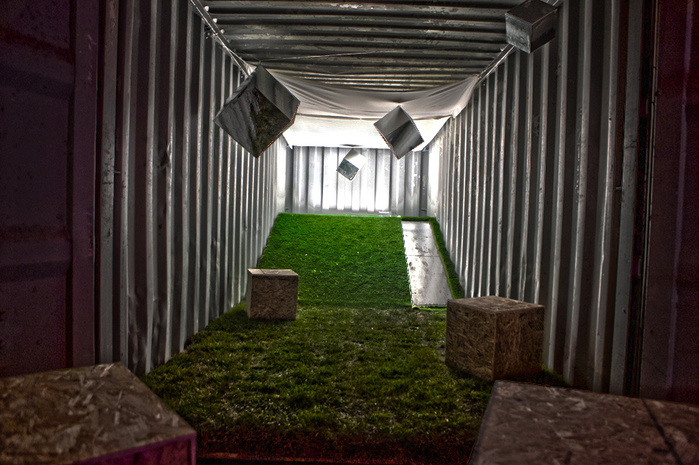 Ludicontainer
Created for the Azrieli School of Architecture's annual Gala,
the installation made use of a shipping container to create
an enclosed and intimate playspace within the grand space
of the Aberdeen Pavilion at Lansdowne Park in Ottawa, Ontario.
Lead Designer, Project Management + Construction: Sarah Anne Fleming
Design Associate + Construction: Kristina Corre
Construction: Robert Berkmans, Ray Chow, Jay Brauneisen + Matthew Megannety
The primary conceptual theme behind the project was to investigate how ludic spaces easily encourage those which have surpassed the "play stage" of their life to once again explore and interact with space.A pool of water lit from beneath was created at the back of the container in order to project a visualization of the music from the stage nearby onto the roof. The mirrored cubes were meant to project and expand these shadows both within the space and into the grand hall, attracting more visitors. Plywood cubes mirroring the shape of the hanging boxes were produced to create more seating within the container as well as in the threshold space between the container and the pavilion. To encourage interaction and add another textural and olfactory-based dimension, grass, both real and synthetic, was used to cover the space. However it was the implementation of a slide that allowed users to recognize and appreciate that this was not only a space for rest, relaxation and encounters, but ultimately a space for ludic behaviour.
And play they did.